Lourdes Pilgrimage 23rd – 30th August 2024
The date for 2024 is confirmed. Further details and booking forms will be available early in the New Year. Do think about joining us!

Lourdes Pilgrimage 2023
Please click here to book your pilgrimage online through Tangney Tours. Should you prefer to complete the form offline, it can be downloaded here: Tangney Tours Booking Form 2023
Please click the link below to download and complete the Stonyhurst registration form – all Stonyhurst pilgrims should complete this
Please click the link below to download and complete the medical form – all Stonyhurst pilgrims should complete this
Please click here to complete the volunteer helper form – all Stonyhurst volunteer helpers must complete this online form by the 1st June 2023
Stonyhurst Pilgrimage to Lourdes 2023, 18th – 25th August
Dear Friend of Stonyhurst,
I cannot tell you how delighted I am to be inviting you to join the Stonyhurst Pilgrimage to Lourdes from the 18th – 25th August 2023. This year will see a return to taking our Pilgrims who need assistance as we shall be organising a medically supported Pilgrimage once again after the enforced absence due to the pandemic. Once again, we shall be part of the Catholic Association Pilgrimage joining with pilgrims from different dioceses across England, together with the Glanfield Children's group.
Flights are from Birmingham and Stansted and we shall  be staying in the Hotel Padoue which is so convenient for the Domain and where we have always had a very warm welcome. The Catholic Association will be offering a subsidy for assisted pilgrims staying in the Accueil,  and for helpers who travel on what will be the main flight for assisted pilgrims. We would encourage assisted pilgrims and our OS helpers to apply early as those subsidies will be limited in number. The SPT will also be able to offer financial support where necessary, so do ask us about subsidies should you feel that you need one to enable you to come. Please encourage any of your family members or friends who might like to come as an assisted pilgrim to get in touch with us.
We shall of course be joining in the services as in previous years, but we are also looking to expand the programme for all pilgrims.  Once again, we are fortunate to have Fr Nick King SJ as our spiritual director, and he will also be the Catholic Association Chaplain. We very much hope that Fr Anthony Meredith will also be joining us.
This year the theme of the Sanctuary of Lourdes is based on the words that Mary entrusted to Bernadette on 2nd of March 1858 – "Go and tell the priests to build a chapel here". During the week in Lourdes, we shall be able to reflect on the meaning of these words, and how they remain useful and practical now just as when Our Lady spoke to Bernadette.
I would ask you to complete the application forms as soon as possible, and encourage your friends, neighbours and members of your parishes to consider signing up to experience this extraordinary place where Our Lady's smile is on the Grotto and all of us there.
With best wishes
Dr Nuala Mellows
Stonyhurst Pilgrimage Trust Chairman
---
Stonyhurst Pilgrimage to Lourdes 2022,  19th – 26th August
The Pastoral Theme this year is "Go and tell the priests to build a chapel here and that people should come in procession."
After two 'grace years' dictated by the pandemic, the Catholic Association is returning to Lourdes this year. You are warmly invited to join the Stonyhurst group. Once again we will travel with Tangney Tours, from either Birmingham or Stansted, and stay at the Hotel Padoue. Please read the letter of welcome from Dr Nuala Mellows which gives you information about this year's pilgrimage.
Welcome and information about Lourdes 2022
There are three forms:
The Stonyhurst Registration Form, this registers you with the Stonyhurst group and enables us to ensure that we have accurate information. Stonyhurst Registration Form 2022 Online
The Tangney Booking Form, you can download the form: Tangney Booking Form 2022 or you can book online: Tangney Online Booking Form 2022
The Helpers' Form – whilst we will not have pilgrims in the Accueil this year we will as always require rollers. To register as a helper please complete the online form: Helpers' Form 2022
Please contact Beverley Sillitoe in the Association Office if you have any queries.
Tel: 01254 827043
---
Stonyhurst Pilgrimage to Lourdes 2021,  20th – 27th August
It is with much regret that we announce that there will be no Catholic Association/Stonyhurst Pilgrimage to Lourdes this year. The pilgrimage, which was scheduled for 20th – 27th August 2021 has been cancelled due to the uncertainty of travelling during this time. We know how disappointing this decision will be for you.
However, we will as last year be producing a special virtual pilgrimage during the week that we would have been there, where everyone is able to follow the pilgrimage daily and experience the Mass, prayers and reflections at home.
We look forward to welcoming you all to our 'virtual pilgrimage' once again!
Stonyhurst Pilgrimage to Lourdes 2020,  21st – 28th August
Sadly due to the continuing uncertainty there will not be a Stonyhurst Pilgrimage to Lourdes this year. But do visit our Virtual Pilgrimage page, where you can enjoy the sights and sounds of Lourdes, see familiar faces and take part in the Rosary, Mass, Night Prayers and much more.
Lourdes 2019
Once again the Stonyhurst Group joined the Catholic Association Pilgrimage to Lourdes in August. The number of people visiting Lourdes overall has been dropping for a few years, and the Catholic Association Pilgrimage is smaller than it used to be. But the Stonyhurst group still thrives. As always our Pilgrims were a mixture. The reason we go is to take Assisted Pilgrims, both those fit enough to stay in the hotel with the rest of the group, and those looked after in the Accueil. There are young helpers – current Poets about to enter Rhetoric at the College, Rhetoricians who have just left, young OS, and a few young helpers who are not OS but have joined our group. There are older OS, families of current and past pupils, the all-important staff from the College, and other members of the wider Stonyhurst family. There is more than one family with members of three generations on the Pilgrimage. As always, we were a convivial group – nobody felt excluded, and we quickly settled in to the Pilgrimage routine.
Some people return to Lourdes year after year. What brings them back? The most compelling reason for returning is to do with what you learn on your first visit to Lourdes. Whether you go as a young helper, an Assisted Pilgrim, or someone associated with Stonyhurst wanting to find out what Lourdes is about, the first thing that you learn is that it is better to give than to receive.
Young helpers discover that having people depending on them for help is very rewarding. Assisted Pilgrims may go to Lourdes feeling that in some way they are a burden, and they discover that actually people are glad to help, and that as Assisted Pilgrims they have a lot to offer by talking to their helpers about their experiences in life. People who travel to Lourdes neither as Assisted Pilgrims nor as helpers soon discover that they have a helping role as well – whether they end up providing companionship for other members of the group – or even get roped in rolling wheelchair-bound Assisted Pilgrims. They discover that there is something that that they are glad to give.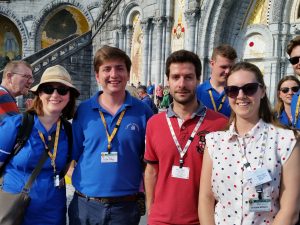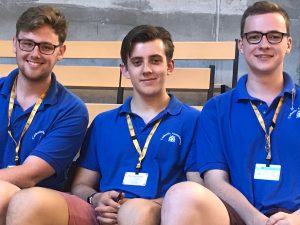 Not everyone who goes to Lourdes will return, but nobody who goes to Lourdes will forget it. For some it is life changing – many Assisted Pilgrims who had reached a stage in life where they wondered if they still had a role to play discover a new lease of life. Some young helpers go to Lourdes never imagining that they will enjoy looking after people, and their direction in life changes and takes them into a career such as nursing. And there is more than one Jesuit who received their call to the priesthood in Lourdes.
The Stonyhurst group will return to Lourdes again in 2020. If you are interested in joining, contact Beverley in the Association Office. And if you know someone that may benefit from a Pilgrimage to Lourdes as an Assisted Pilgrim, they will be especially welcome.
Lourdes 2018
This year 136 pilgrims took part in our annual pilgrimage, from babies to age 95! It was a lovely week, the weather being mainly warm and sunny, and as always the week was filled with much laughter. The pilgrimage cannot happen without helpers and this year we had thirty-nine helpers aged between 17 and 30, and twenty-six helpers whose ages ranged from 30 to 79. All are valuable and play such an important role as did the many volunteers who this year came forward when they learnt that the Catholic Association was generally short of helpers. Thank you to all of you.
We go with a singular purpose, to look after our assisted pilgrims, those who without care could not make this journey, this pilgrimage. Our assisted pilgrims were at the heart of this pilgrimage as they are each year, and their presence with us is a great joy to all.
We had spiritual direction from Father Nick King SJ, our Spiritual Director, from Father Anthony Meredith IC and from Catherine Hanley the Lay Chaplain at the College. Over the course of the week there were many wonderful Masses, night prayers and events, but perhaps special mention of our 9.00am Stonyhurst Mass on Tuesday morning, where we filled the Chapelle Notre Dame des Douleurs and sang Pater Noster, a very lovely occasion.
We are now looking to next year, information will be available from February 2019. If you know of a person who is unwell or perhaps lonely, and may benefit from a week in Lourdes, please do let us know.  And if you think you could be a helper then do get in touch, we would be delighted to hear from you!
Take a look at a short video, produced by Dominic Hartley OS 86, and filmed during our 2018 pilgrimage – please click the link below:
Stonyhurst Lourdes Pilgrimage 2018