Congratulations to Catriona Graffius OS 11 on her graduation as MA in English Literature from Christ Church, Oxford on 29th Feb 2020. Catriona is currently working at the news desk of The Sun as a journalist. Previously she was Press Officer for Holland & Holland, part of the Chanel Group.
Alice Kenyon OS 15 graduated from the University of Liverpool in July 2019 with a first class honours degree in Accounting and Finance, after a year in industry at Rolls-Royce Motor Cars, Goodwood. In September 2019 she joined Deloitte at their Leeds office as a Financial Services Audit Associate.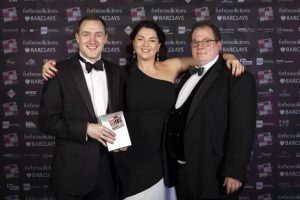 From left to right are James Podevyn OS 98,  (Spiroflow Co-Managing Director), Eleanor Spensley (Marketing Manager) Chris Brennan OS 02 (Technical Sales Manager)
James Podyvyn OS 98 Co-Managing Director of Clitheroe-based Spiroflow was awarded medium business of the year award at the Red Rose Awards 2020.