OS 2008 Reunion
from Tom O'Donnell, OS 2008

On the weekend of the 13/14th October, 57 OS gathered to celebrate ten years since we flew the Stonyhurst nest – a record number of attendees for a ten year reunion!
Following an impromptu evening in the Bayley for some on the Friday evening, the weekend began in earnest with a tour of the college; the highlight being the new refectory and reformation/deformation of New York! Thanks to our own Daniel Layzell's kind mother Lisa for showing us around!
The weather could have been kinder so despite our best efforts to attend the day's sporting fixtures we were faced with the prospect of an afternoon in Hurst Green or a soggy afternoon on the sidelines. As it happens Hurst Green emerged as the most popular option providing us with time to reflect of just how badly many had aged and ponder how a handful had somehow managed to find suitable spouse to begin family life! (I am reliably informed the 1st XV ran riot in a stylish win from those who did brave the elements).
After a few swift turnarounds to don our finery we descended on the Top Ref to enjoy a wonderfully prepared meal courtesy of Adam, Michelle and the catering team. Naturally it would be amiss of me not to salute the energy, love and maternal instincts of Michelle, news of whose recent passing was devastating to hear for us all. May she rest in peace.
Coffee and mints polished off, Dave Ridout wasted no time in expertly despatching our rabble from college grounds as we headed north up the avenue to continue he jollity. As many of your own reunions will have concluded, an obligatory taxi ride into Whalley was enjoyed by most to close of a brilliant day!
Returning to the college was a surreal feeling, particularly given we were amongst all of those who we knew and loved so well, in the corridors and amongst the everyday grandeur that we had all been so familiar with.
We were reminded further of the unique qualities of Stonyhurst through the programme for Sunday, celebrating first mass in St Peter's alongside a relic of the recently canonised Oscar Romero followed by a tour of the college collections and libraries led by our Poetry Playroom Master Stas Callinicos. Never has standing in Strainy's bar been so educational!
Our thanks to Beverley and Layla for all their support prior to and during the weekend in addition to my fellow OS, many of whom travelled from great distances to be present. I for one am already hugely anticipating congregating once again in a decade or so's time!
OS 1998 Reunion
from Jack Hardy, OS 98

Suddenly finding a long lost toy you played with as a child, or discovering a letter you were sure you'd thrown away years ago. Those pangs of what once was and is now lost seem to pull us back, achingly, like an umbilical, into the past. These little instances, even when combined over a lifetime, cannot come close to the weight of that moment as you roll down the Avenue toward the looming towers which you once called your home.
Twenty years had passed since completing our A levels. As each had finished their exams at different times, we'd trickled away, one by one, from those front gates, knowing that when we returned years later, someone else would be sleeping in our room, playing on our fields and praying in our Church. Of course, all of these things are on loan, and so one day, present pupils, will also play victim to these sentiments.
This was our twenty year reunion and many of us had come from all over the country to be there. Those who could had met in Clitheroe the night before and sampled the local beer(£11 for 3. I chuckled) into the small hours.
So it was with a delicate stomach of mixed emotions that we were buzzed in through the Glass Doors and assembled in the Pieta to find the Head, John Browne, dutifully waiting next to a pin-board with our year's photo and a list of our names with our various achievements, some long and illustrious (Martin 'Head Boy' Clifford,), some (your humble writer) feeble. With uncanny ease, there were hugs and how are yous all round as we came face to face with our fellow veterans. From seemingly nowhere, Mr Warrilow and Mr Charles, who both seem to have made some Faustian pact which has prevented them from aging, appeared, greeted us kindly, and promptly melted back into the shadows of the school.
A lunch was given in the Bayley Room. Everyone exchanged the obligatory employment, marriage and health status(this happened a lot) and generally caught up. The ease with which this all occurred was astounding.
After a brief pit stop at the Shireburn, we headed back, put on our black-tie get up and raced back to have dinner in the Top Ref. This had never been open to us during our time there as the floor was being re-laid, but it all seems to have been worth it. Champagne was raised and shoulders were clasped.
Our band was small (25), with one old-girl, Mary Maye, returning to represent the small number of females that had attended our year.However, we filled that room. Two boys played the piano beautifully as we ate and, again, that ease of conversation and comradeship never flagged or seemed forced. It was just wonderful to see everyone. A few of us ventured to look around our old haunts and discovered the Rhetoric Common room, which has morphed from the airport lounge of chairs we 'd had into a very civilised student's union. The mix of boys and girls has had a tonic-like effect on the whole ambience of the school. Pupils seem so much more at ease now, less guarded and more open.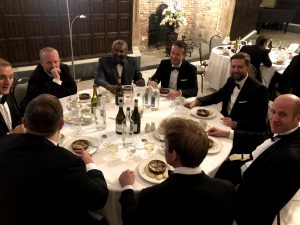 Our mood effervescent, we searched for a place to continue the festivities, and with The Bayley closed, we found ourselves inside the cosy confines of St Peter's Catholic Club. Joseph Sharples, who had not long ago reached celebrity status by landing a Navy helicopter in the middle of the Avenue, was surrounded by a throng of attentive(and of legal drinking age) pupils. They were all great fun to talk to, as we tried to refrain from offering sagely words on the do's and don'ts of uni, gap years and the like. The clinking of glasses continued. For many of us, being older meant that egos had long since been abandoned and we were able to discuss, freely and in depth, our lives, shared memories and aspirations for the future. And everyone listened in the way that only old friends do. Many of us had turned out exactly as expected: a be-tweeded agricultural solicitor, a few high-ranking officers, an ex-police officer, two architects etc.  The mould was broken, however, by Achyut Valluri who has always been a straight A genius and has become, unsurprisingly, an eminent doctor. That night he'd been wearing his silvered hair in a modest man-bun. On returning from the lavatory, he emerged a sartorial tsunami, seemingly bathed in light. His hair, newly liberated from the manacles of its scrunchy, now fell about his shoulders in tumbling locks of molten majesty. A murmur of awe rose softly and then, like a forest fire, spread through the pub in deafening cries of wonderment from O.S. and locals alike. None were spared and none have quite been the same since. Don't expect the locals to speak of it. It's still too soon. We got home, bleeding eared, at 5am.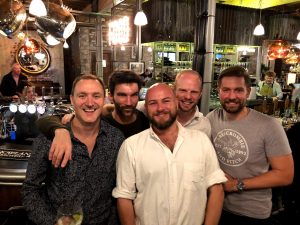 The following morning, punch eyed and shivery, we tumbled into the wall of sound that is the musical mass in St Peter's and then headed on a brief tour. The galleries we had wandered so very often at weekends(each pupil had their own allotted circuit back in the day) seemed smaller. Doors to classrooms seemed to have been moved some metres from where our memories had aligned them, and our twenty year blueprint was distorted by added fixtures but the spirit of those passages had changed not one bit.
The Library, (the renovation inspired by a 1998 design by one Christopher Daniel, O.S.) was as grand as ever. Like a whisper, our old teacher, Dave Ridout appeared, or rather, was now one of us in the room. No one is sure when this actually happened. He may have been with us the whole time. With zeal, he caught up with everyone and rapidly took down email addresses with much philosophic nodding.
We headed to the Refectory, where the wonderful catering team seemed to be waiting in white, like a time-capsule, with mock eye-rolls performed in unison. Dave Eachus also materialised without ceremony and we had a great chat.
And of course, Michelle Hayhurst. As an old friend, she embraced us all with the biggest hugs imaginable. Of all the greetings and well-wishings over the weekend, hers were the warmest. She reminded us of our old sport of flinging wraps of butter up to the ceiling, where they would stick with a satisfying splat. 'Were we really that bad?' we asked. 'No,' she said, 'You were worse!' In the midst of her recent passing, a post of condolence on her Facebook page declared her the 'Heart of Hurst Green and Stonyhurst.' I can think of nothing more fitting.
The Arundel Library, a hidden vault of mysteries and scholarly secrets in our day, is now open, quite rightly, to pupils. I for one, had never seen the rescued eyeball of a Jesuit preserved in a silver circlet. I now have. The old uniform is also on display and the grapevine seems to whisper that it may be re-introduced. Amusing, yes. Amazing, also yes.
Finally, we'd come to the end. We bid each other farewell, still euphoric with the weekend's drenching of the senses. There is another, informal, reunion hopefully being planned for 5 years' time. It seems a waste not to make these things a little more frequent. I don't think many of us have laughed so much in a long time. A huge thank you to the school for putting the whole thing on, particularly to Layla Heaton and John Moriarty for getting us all in gear. Present pupils, take your time when it finally comes to say goodbye. It will make the hello in twenty years all the sweeter.
Jack Hardy, OS 98