Rhetoric 2007 Reunion, from Ola Alli
"After some let's say "gentle" reminders from the Holt Twins I set about the daunting task of getting the rest of Rhetoric 2007 together for our 10 year reunion.  As the date drew nearer and nearer I slowly started to worry that I was on the brink of helping organise the Reunion with the lowest attendance in recent history!
Luckily I needed not worry and on October 14th circa 50 OS arrived at Stonyhurst from all over the UK and abroad with a special mention going out to the "3 Musketeers" who came all the way from Hong Kong. We all agreed it was one of the best weekends we have had in a long time that really showed how comfortable and happy we still are in each other's company, it was as if we had never left.
It all "officially" began late Saturday morning with a shandy or two at the Bayley Arms, followed by a walk down the Avenue and gathering in the Pieta Gallery where we were split into boys and girls and taken on a tour by members of Rhetoric playroom. It was amazing to see how the school has changed since we were students and whilst the facilities had improved the spirit of the school remained intact.
After the tour and some refreshments we all got ready for a black tie dinner in the Top Ref for some amazing food, wine and a lot of laughter which was made all the more special as we were joined by Mr Warrilow, Mr Ridout, Mrs Whalley and Miss Fielding. After a speech or two post dinner (James Kennedy what were you thinking?) we then retired to the Bayley Arms where we were joined by teachers and a few parents to reminisce about the great memories we shared together, before we ventured down to Rios to end the night in style.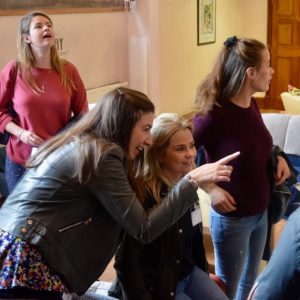 Sunday morning helped cement the fact that we were indeed 10 years older and with a few sore heads we attended a lovely Sunday Mass service. It was then back to the Bayley Arms for some final goodbyes and promises all around that we won't leave it another 10 years before we see each other again.
On behalf of Rhetoric 2007 I want to extend a massive thank you to Layla and Beverley for helping make such a special weekend happen.  For those of Rhetoric 07 who weren't able to attend you were sorely missed and it was great to see how the bond we made all those years ago remains as strong as ever and long may that continue."


Stonyhurst Association Annual Dinner 2016
The President, Fr Nicholas King SJ. writes:
The dinner was held at Stonyhurst this year, the Ambulacrum transformed into a palace, thanks to a wonderful team and the generous efficiency of Beverley Sillitoe. It was a great occasion, an excellent meal, with perhaps the highlight being the speech by Sr Jane Livesey (she claimed that it was the first time that she had given an after-dinner discourse, but it was as to the manner born, as many people commented). She is of course sister of two OS, former Head at Shaftesbury, then Provincial of the English Province, and now Mother General of the Congregation of Jesus, once known as the IBVM, who had graciously surrendered a weekend for the purpose of addressing the Stonyhurst family. Her talk dwelt on Truth and Trust, as they apply to Stonyhurst; she started with some of the lessons of her recent visit to Cuba.   It was a remarkable speech, and for many observers it made the evening.
And there was, of course, John Browne, the new headmaster and his wife Marie. He made an excellent speech and then followed it up, winning much admiration, by playing the organ at Mass the next morning. There were other speeches, too; one was from the President, Fr Nicholas King SJ, who had taken on the office precisely half a century after his father had held it. He spoke ofthe role of tradition in a place like Stonyhurst, enabling the living institution to look forward and back, and doing it in a different way in every generation, meeting the needs of the time.
There was a good turnout, and some very valued guests, including Mary Bailey, whose family represents such a solid bulwark of our tradition, Brian Ashton, a former coach to the Under-15 cricket team (and, as it happens, the England Rugby side), the Chairman of Governors and his wife, Charles Foulds and Wilf Usher, former stalwarts of the Stonyhurst tradition; and the Jesuits who graciously turned up to the dinner. And there was an outstanding speech by Madeleine Coulston, the Head of the Line; many experienced judges commented that they will watch her future career with great interest.