Dear Stonyhurst community,
The Charitable Endeavours pupil group would like to offer you the opportunity to purchase our annual Stonyhurst Christmas cards. The cards feature two beautiful and unique designs from the Stonyhurst Collections, which are shown below.
The first is, The Annunciation to the Shepherds from the Hours of Elizabeth of York, Stonyhurst Boardman MS 37, f.74. French, c.1430-1450.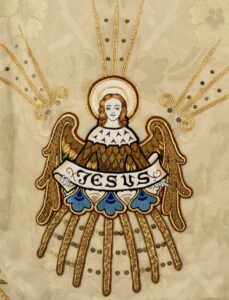 The second is, Angel Praising the Name of Jesus, Watts Chasuble (detail), made at Southam Convent, 1917.
The cards will come in packs of 6, in A6 size, left blank inside to give you maximum space for your messages to family and friends. We are able to ship internationally, but we advise that you get your order in as soon as possible, as we are only able to post out cards once a week, every Friday from 20th October (excluding half term), until the end of term on 8th December.
All the money made will go to charitable causes that Stonyhurst is supporting this year, both for the College and for external charities. The Charitable Endeavours group are deeply committed to our aim of becoming men and women for others through acts of Service, and we will be immensely grateful to you for any help and support you are able to give in purchasing our charity Christmas cards.
To order please click the link below.
Stonyhurst Christmas Cards 2023
Should you have any questions, please do contact the Director of Christian Formation, Catherine Crombie: c.crombie@stonyhurst.ac.uk
With our warmest wishes,
The Charitable Endeavours Pupil Group, Stonyhurst Arrupe Programme